Lucas Sullivan
---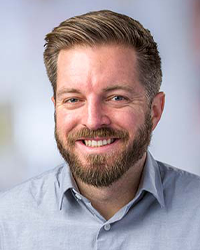 Contact:
lucas@fredhutch.org
PACR Role:
Project Lead
Institution:
Fred Hutch
Bio:
Dr. Lucas Sullivan is an Assistant Professor in the Human Biology at Fred Hutch.
Sullivan studies cell metabolism under normal and cancerous conditions, and works to outline the metabolic pathways that tumors rely on to grow and progress, including identifying potential targets for future cancer therapies. He also aims to deepen our understanding of metabolism in general, working to discover new molecular products of metabolism and their roles in sustaining cell survival and growth.
Sullivan joined the PACR team in 2019 as a project lead on the pre-pilot project "A novel analytical method for the analysis and interpretation of Stable Isotope Resolved Metabolomics data."
Sullivan earned his Ph.D. from the Feinberg School of Medicine at Northwestern University.