Brand
Adhering to a brand guide allows PACR to present a strong and consistent identity to our community, partners and shareholders. Click through each tab to learn more.
Logo
The most visible element of our brand, the partnership logo provides us with a new and unique symbol that extends a clear identity for our organization into the community and with our partners and shareholders. It augments our previous logo to create a greater sense of professionalism, collaboration and purpose. General guidelines for use are as follows:
The logo should not be altered or modified in any way.
The full color logo should be used whenever design permits.
The logo should be given a minimum clear space that is at least the size of the letter "C" in "Cancer."
The logo should adhere to these minimum size requirements: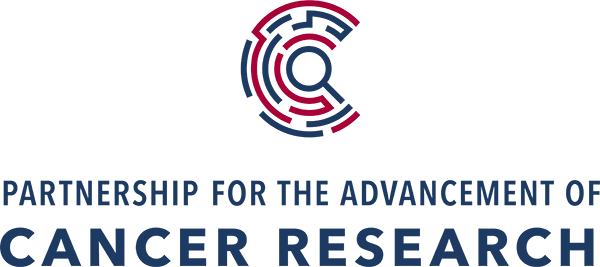 ---
Colors
Complementing the logo, our defined color palette aids in extending a strong and consistent brand identity. The colors were derived from the primary colors used in the branding of our parent institutions - a variant of NMSU's crimson and the Hutch's signature dark navy. The secondary colors are used to provide accent to the main palette. They should be used with discretion.
Primary Colors
---


Secondary Colors
---


---
Typography
Establishing consistent typography creates a strong brand presence across all of our funded projects and activities and ensures clean, professional looking materials. The typefaces utilized by the partnership were chosen to provide flexibility in design while maintaining legibility in a variety of uses. Together, the typefaces help create a sense of energy, modernity and prominence.
All typefaces should be used in combination with one another and with great discretion. Materials should never be created using only one typeface. Conversely, materials should aim to use no more than three different styles of the typefaces. The weight of each typeface should be carefully considered in each application to ensure maximum legibility. The typefaces should never be altered outside of the prescribed guidelines.
All of our brand typefaces may be downloaded for free on Google Fonts.
Captions, Accent Text, Small Text
---
Templates
Conference Poster | Download
Letterhead (Fred Hutch Return Address) | Download
Letterhead (NMSU Return Address) | Download
Meeting Agenda | Download
PowerPoint Presentation Template | Download
Please email Kaitlin Briggs at kenglund@nmsu.edu if you need additional templates.
---